What's Galaxian?
---
The plot of Galaxian follows the military actions of either the UGSF Galactic Military and AGAD, a covert organization. The UGSF has recently faded from the series to focus more on other titles and now the plot focuses more on AGAD. Most wars in the series feature an alien race known as the Galaga, but some game feature other enemies of the United Galaxy such as the UIMS, and Bosconians. The Galaga Wars started in 2279 when a group of Galaga fighters entered Earth's territory. When diplomacy failed the UGSF quickly responded and sent several squads of three fighter types to the location. The Galaga were forced to retreat and the UG had won the war, but the Galaga returned later in the year 2281, and attacked again. The wars continue to the present day and now AGAD handles most Galaga Wars in secret. The most notable thing about the Galaga is that the ships they pilot use both organic and robotic materials.
Featured Briefing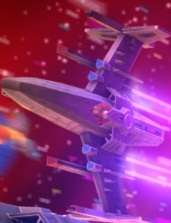 This month's featured article is the Gyaraku, an advanced fightercraft that has made many appearences in series titles. It is armed with an underside pulse-canon, and has several reverse and forward thrusters. Though it's most intering capability is the fact that it can fuse, with other fighters and gain more power.
Repair Wing
In the Repair Wing this month is the Games category. Several pages on games need Repair badly to fit together with actual storylines instead of speculation. Paragraphs on gameplay would also help.
Wiki News
The Wiki's growing! 200 Pages soon!
The Wiki is starting to get it's own set of templates. If you know how to build templates please contact
Galaga News