Galaxian 2



Series:

Console(s):

Itself

PLayers:

2

Release Year:

1981
Not to be confused with a sequel to
Galaxian
, this is a handheld version with very great graphics for the time. It was a handheld version of Galaxian from the 80's with the exact same look & a unique two-player mode.
See Also:Galaxian (game)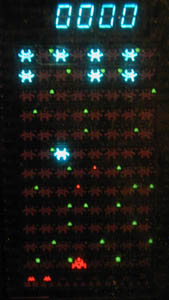 The gameplay in single player is the exact same as Galaxian, with the player controlling the "Galaxy Ship" instead of
Galaxip 79
. But two player mode features player one controling the Galaxy Ship, & player two sending the fighters in to attack player one. The game is over when one player destroys all the other player's ships. After the player scores 9,999 points if they live to score more the score will go back to 0000 for the player to score more. To power the game the player must have four C-type batteries.
Galaxian II
Galaxian 2
Astro Galaxy
Astro Invaders
Entex Galaxian
Galaxian x2 made a cameo appearance in the movie Doom.
The title Galaxian 2 has confused fans into thinking it's a sequel. But the title in some versions is x2 meaning two player.
The handheld unit resembles a ship from Battlestar Galactica.